Bnei Akiva on a local level
The very first branches of Bnei Akiva were launched in 1936 in Stamford Hill, London – set up by young Mizrachi members Cecil Sklan and Benny Pollak, with help from Jack Sklan and Myer Silverstone, and inspired by Shaliach David Intriligator. These early gatherings started in modest surroundings in the Sklan basement at 32 Woodberry Down, before moving to the New Synagogue (Egerton Road). The groups were small and very localised, but laid the foundation for what was to come…
READ MORE FROM THIS PERIOD
SUBMIT YOUR STORIES
Arieh Handler and the Kindertransport
When Arieh Handler arrived on shlichut, everything changed. His charismatic leadership and ability to make connections with Anglo-Jewish leaders led him to become the leading figure in Bnei Akiva. He was active in rehousing children from the Kindertransport, and on the very day that World War 2 broke out, he secured a home for a large transport of religious children in Gwrych Castle in North Wales. This became the base for 'Bachad', a pioneering movement for young people aged 16+ to prepare themselves for life on a religious kibbutz in Eretz Yisrael.
Gwrych also hosted the first ever national gathering of Bnei Akiva (the 'Pegisha') in December 1940, as well as Arieh's wedding! This was followed by the start of summer machanot in 1942.
Sadly, the Gwrych oasis for refugees ended abruptly with the Earl of Dundonald being forced to sell the estate for death duties, and the War Office who had requisitioned the castle, ordered their expulsion. Instead, Bachad went national, as they sent groups of chaverim to farms and centres around the British Isles, living and teaching a religious lifestyle while working for the local farmers. And so Religious Zionism found itself in places such as Whittingehame, Scotland, St. Asaph, Rosset, Castleton (Thornham Fold Farm), Millisle (Co. Down, N. Ireland), Bromsgrove (Kibbutz Shivat Tzion), Buckingham, Kinnersley, Ollerton and Dockenfield Manor.
As time went by, there was a feeling that the movement needed its own home, and this led in 1944 to the purchase of Thaxted Farm, which would serve as the centre of 'Hachshara', preparing chaverim for Aliyah to Religious Zionist kibbutzim in Israel.
READ MORE FROM THIS PERIOD
SUBMIT YOUR STORIES
Aliyah, Hachshara and Thaxted
After the War, Bnei Akiva took the lead in Aliyah. The first Aliyah to British Mandate Palestine was held in 1945, and quickly followed by Aliyah Bet in 1947. This came either side of a Jamboree in England attended by over 700 chanichim in 1946. In fact, the first official Aliyah from Bnei Akiva in the UK was by Eliyahu Blum in 1944. This was no mean feat as it meant going against the White Paper during WWII
With the establishment of the State of Israel, new opportunities arose, none more defining at the Hityashvut of Kibbutz Lavi in 1949. The setting up and settling of Lavi, and those that followed after symobolised the full expression of a life of Torah Va'Avodah. The Hachshara farms based across the UK helped to train up chaverim for their Aliyah, teaching them valuable agricultural skills as well as educating in Torah. Thaxted was the centre of this, and in 1956 the corner stone was consecrated at the Herbert Laster Memorial Hostel. Herbert had tragically died the previous year when an ElAl flight he was on was shot down over Bulgaria. His death had a profound impact on the movement as it heralded the end of the old leadership of members born in continental Europe. During this period of time the Movement was led by some of the leaders of the generation, including Yehuda Avner – who later served four Israeli Prime Ministers, as well as being Ambassador to the UK – and Ephraim Gastwirth, the first Mazkir. The offices were located on Cazenove Road, Stamford Hill. Another event of note was the creation of World Bnei Akiva in 1954, and the adoption of Yad Achim as the Movement's official anthem. In 1961 the International Machane Avodah was held at Thaxted, and the Tnua boasted 1500 members.
READ MORE FROM THIS PERIOD
SUBMIT YOUR STORIES
""The hakafot (at Cazenove Rd) would continue well into the late afternoon, before a communal kiddush and meal. The wooden floorboards of the old house shook with the pounding of hundreds of pairs of feet, and to this day whenever I meet up with old acquaintances of that time, we marvel how the floor never caved in."

Professor David Newman
""It was somewhere I could express myself religiously and Zionistically, and that was Bnei Akiva, it was the place that I needed to be... The people I went on Hachshara with are now the ones here with me on Alumim, Bnei Akiva was definitely the catalyst, it got me to Israel!"

Cyril Young, Camps Organiser 5730
Transformation of Bachad and the Batim
In 1962 Thaxted Farm was sold, and the focus of Hachshara shifted from training farms in the UK, to programmes in Israel. The Bnei Akiva Scholarship Institute was set up in 1964 and 28 participants attended the first Hachshara in Israel. In 1966 Arieh Handler became the Chairman of Bachad, and this was closely followed in 1966 with the settling of Kibbutz Alumim. A Garin was quickly established to Alumim in 1968 with a number of Chaverim choosing to complete Bnei Akiva's ideological goal and make Aliyah. Hundreds followed and made kibbtuzim across the country their new home. In 1967 Bnei Akiva moved their offices to the Willesden Bayit, 276 Willeseden Lane. This ran alongside 70 Cazenove Road, 17 Queen Mary Avenue in Glasgow, and 47 Singleton Road in Manchester (Number 72 was also purchased in January 1968). There was also a Bayit in Ilford for much of this period. Bnei Akiva continued to flourish throughout the 1970's – chaverim met Queen Elizabeth in 1970, the first female Mazkira, Chana Bayer, was appointed in 1976, and the site on Hallswelle Road was purchased in 1978. In 1983 the Alexander Margulies Youth Centre was officially opened on Hallswelle Road, with the office staff moving in three years later in 1986.
READ MORE FROM THIS PERIOD
SUBMIT YOUR STORIES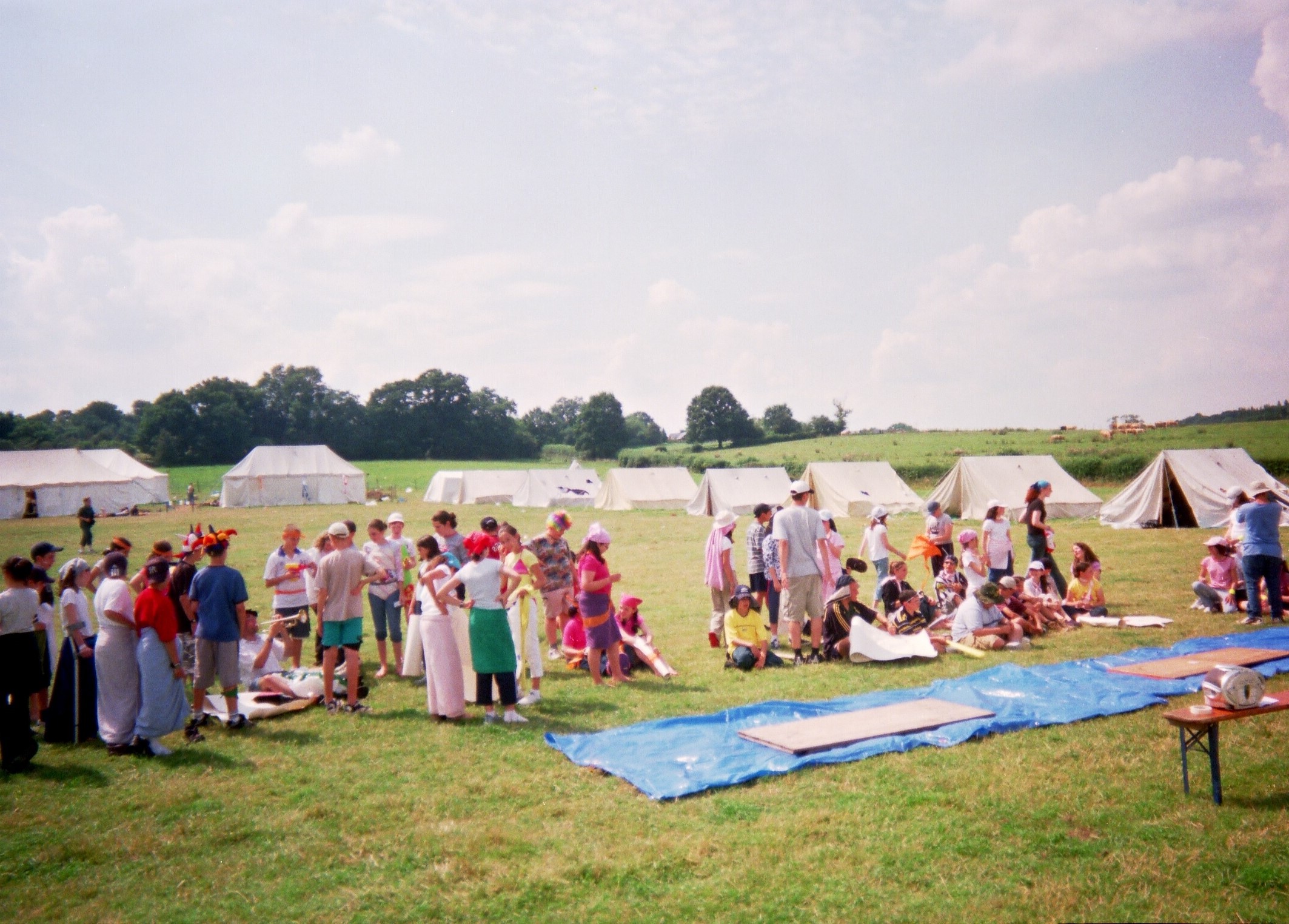 Big Buildings, Big Events, Big Impact
During this period of time Bnei Akiva embarked on a number of ambitious projects and events that cemented its place as the largest Jewish Youth Movement in the country. 1989 saw the very first National Weekend take place – a shabbaton for chanichim, madrichim, bogrim, parents and grandparents. Such was the success and positive atmosphere surrounding National Weekend that it was repeated again in 1996, 2001 and 2006, with well over 1000 people in attendance on each occasion. As well as hosting a number of dignitaries, these events showcased the power of youth, being totally catered, run and managed by the Madrichim and Mazkirut. The year 1991 saw the building of a large and modern community centre known as Hamburger House at the site of 72 Singleton Road. Opened by the Chief Rabbi Lord Sacks, this site has gone on to become the hub for Zionism in Manchester. In 1998 Bnei Akiva aimed big again, with all Winter Machanot flying to Israel to celebrate the State's 50th birthday. There were further developments in 2006 thanks to the setting up of the Arieh Handler Scholarship Fund, as well as the launch of Yachad, a programme that integrated children with special educational needs into mainstream Machane. In 2002 the tnua was devastated by the loss of Yoni Jesner in a suicide bombing in Israel. Yoni was an inspirational Madrich and dedicated chaver of Bnei Akiva, whose loss was felt deeply.
READ MORE FROM THIS PERIOD
SUBMIT YOUR STORIES
Over the movement's last decade its size and impact has been exemplified by the annual Yom Ha'atzmaut tefilla, the community's largest annual celebration of Israel. The unique ruach of Bnei Akiva chaverim draws a crowd of 1500 people every year, and has been addressed by distinguished guests such as Prime Minister Gordon Brown, Theresa May and Chief Rabbis Sacks and Mirvis.
In 2008 fundraising efforts enabled Bnei Akiva to purchase a children's shelter for the southern Israeli town of Sderot. Further fundraising events were held including the Bayit L'Bayit cycle from Manchester to London and an annual blood drive was set up, highlighting Bnei Akiva's role at the forefront of Chessed and Tzedaka. 2010-11 saw the movement suffer greatly, with the death of former Mazkir Marc Weinberg in June 2010, and Arieh Handler passing away in May 2011. Arieh had maintained his connection with the tnua throughout his life, providing inspiration to all the chanichim and madrichim he met. December of that year saw the retirement of Rosemary Davidson after 28 years as Administrator, and a step into the modern era with a new App, and Yediot moving online. Bnei Akiva also hosted the Jeurovision event in Manchester in 2014, and has taken on a more global outlook with Machanot travelling to countries such as Holland, France, Spain and South Africa.
In 2019 Bnei Akiva and Bachad celebrated 80 years since becoming a national movement, with 80 celebratory events marking the occasion including a Hachnasat Sefer Torah.
Today, Bnei Akiva regularly attracts over 200 chanichim on Israel Machane , as well as several hundred more across camps in the UK, Europe and Hachshara.
READ MORE FROM THIS PERIOD
SUBMIT YOUR STORIES
""My one regret - I didn't make a diary! I love Bnei Akiva because it makes everyone feel they are part of a family... at National Weekend parents came and it was outstanding.. Parents loved being up on their chairs and the children were so embarrassed... it was like a reunion for every generation"

Rosemary Davidson
""Bet Base Summer was my first Machane, I was there with around 100 people in a tent in the middle of a field. Everyone was on their chairs... signing... dancing... just going crazy for Shabbat! I remember thinking, this is something that I really want to be part of."

Jonathan Sherman, Mazkir 5773